Home
>
Topics
>
Printable Math Posters
How does posting math problems in your classroom help students learn more? There is no doubt that for most students, understanding math is a very daunting experience. Being able to learn all the rules, patterns, laws, equations, theorems, and operations makes it very difficult for a student to understand math problems effectively. Teachers all over the world try different tactics that help students get better at mathematics, one of which is posting a math problem in the classroom. This is a highly effective strategy that allows students to solve one math problem every day rather than being bombarded with a bunch of it. This strategy helps the students develop a sense of accomplishment when they solve the problem while creating a competitive environment in the classroom. Keeping scores can help students solve the problems quickly and get a better hang of problem-solving. When students learn to enjoy doing math problems, they will eventually get better at it and not get frustrated while finding a solution. We have put together some excitement for classroom walls and binders. On the pages below, you will find complete walk throughs of all major math curriculum topics by grade level. We add new posters all the time too.
How to Reinforce Your Math Lessons with Posters
They say a picture is worth a thousand words and that is definitely true. Posters are simple and effective tools to help keep students engaged in the material. A simple flyer cannot only help remind them of concept, but make it stick with them for a long time. I have found that when I use poster actively with my students, they tend to retain the information and process associated with it a great while longer. I would like to share how I use these posters actively with me students in this section. When I say "actively" I do not just put them up in my room with the hopes that students will catch on, I make it a piece to remember for them. I have found this method to be significantly helpful with my students.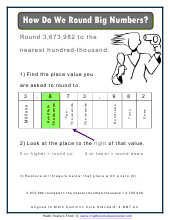 1) Lesson Planning - The first step is to determine at what point you will introduce a poster during your unit. I make sure to focus all of my classroom posters on topics or skills that I would consider a sticking point (where the greater majority of will have some difficulty). There is no use to reinforce skills or topics that are easy for all students. If you are new to teaching a level, this will be something you might be able to predict, but definitely not in all cases. I found my first few years, when I was working with a new curriculum or level, I would only present posters after I have clearly identified a sticking point.
2) Lesson Delivery - I recommend reviewing the skill with students by running them through a review problem at the start of the class. If the poster contains that problem, even better. Once you have reviewed the problem, present the poster to the class. I find it helpful to invite students to help me decide where to place and place it on the wall. That simply set of gestures really helps solidify the presence of the poster.
3) Reflection - If as I get a chance to refer back to the poster further ahead in the unit, I try to include that visual as much as possible. If there is a review prior to an assessment whether it be a short quiz or a lengthy unit test, you know I'm including it.
4) Assessment Time - You might want to cover up these wall visuals when it comes time for test. I like to have them covered up with plain white paper the minute that students come to class. This helps elevate the importance that students will place on the next poster that is to grace your walls.