Home
>
Grade Levels
>
Grade 8
>
8th Grade Math Posters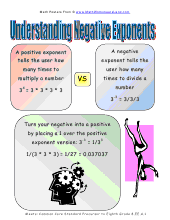 Who doesn't need helpful reminders posted all around to be gentle messages of encouragement?
This is a huge collection of print ready sheets that can easily transform your classroom walls into a helpful reminder for all of your Common Core Standard topics.
We recommend using a little bit of the color cartridge for this area. We would also encourage you to laminate them for future use and easy transport.
The Number System
Expressions and Equations
Properties of Integer Exponents - 8.EE.A.1
Functions
Geometry
Properties of Rotations, Reflections, and Translations- 8.G.A.1
Statistics & Probability
Scatter Plots for Bivariate Data- 8.SP.A.1
What are Students Learning in 8th Grade Math Class?
Math is a tricky subject. Students often try running from the subject since it gets pretty difficult for them. So to help them learn better and make them interested, the use of various tactics and worksheets, games, and interactive activities. In grade 8th, students are pretty sharp and can grasp the meaning of various operations pretty easily. Grade 8 course focuses on negative and positive numbers, exponents, and the order of operations, scientific and standard notation. The course helps in working more with whole numbers, fractions, mixed fractions, decimals, integers, and many new concepts. They start gaining knowledge about various measurement techniques, geometry, data analysis, and probability.