Home
>
Grade Levels
>
Grade 1
>
First Grade Math Posters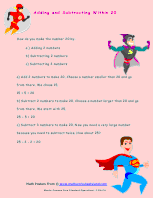 These printables are great to hang around your room on the weeks that you are working on these concepts. You will want to waste the color ink on these posters. Make sure to turn on your "Background Printing" to get all the color that these come with. You are only printing 2 a week. Make sure to laminate them, so you can use them every year! They are listed by the curriculum standards, but can be ordered in way you so choose. We took our time to make sure that the posters are both educational and engaging for students. The goal with the font choices was to focus on making them more readable. It not only helps you create a more pleasing environment for your students, but also helps you reinforce the things you are working on with them. There are two other types of posters we encourage you to hang in your first-grade classrooms. It would begin with motivational quotes, but make sure to change them regularly. We would also urge you to post a set of classroom rules that everyone is accountable to uphold including the teacher.
Operations
Addition and Subtraction Word Problems - OA.1
Single Digit Subtraction - 1.OA.A.1
Simple Subtraction Word Problems- 1.OA.A.1
Addition Word Problems- 1.OA.2
Simple Addition Word Problems - 1.OA.A.2
Properties of Operations as Strategies - 1.OA.3
Vertical Addition Math Facts - 1.OA.C.6



Vertical Subtraction Math Facts - 1.OA.C.6





Working With Equals Signs - 1.OA.C.7





Unknown Numbers in Sums and Differences - 1.OA.8






Numbers and Base Ten

Counting (Up to 120) - 1.NBT.1

One and Tens Place Values - 1.NBT.2




Compare Two-Digit Numbers - 1.NBT.3




Single Digit Addition - 1.NBT.C.4




Addition of Numbers (Under 100) - 1.NBT.4




Ten More Or Ten Less - 1.NBT.5





Visual Sum and Difference Word Problems - 1.NBT.6






Measurement and Data

Indirect Length Word Problems - 1.MD.1






Length Word Problems In Units - 1.MD.2





Hours and Half Hours of Time - 1.MD.3






Organizing and Understanding Data - 1.MD.4






Geometry Skills

Attributes of Shapes- 1.G.1





Making Two-dimensional Shapes - 1.G.2





Partitioning Circles and Rectangles- 1.G.3



How to Create a First Grade Poster Schedule for Your Classroom
This is something that many teachers wrestle with, especially early in their career. What should I put up and when? Having worked with hundreds of teachers, we find that keeping a monthly schedule works best for most. Some people are pure spitfires and like to start going at this weekly which eventually overwhelms them as new circumstances in life get in the way. My best advice is start changing posters every other month that coincide with your units. The progression of student interest in new posters normal follow a 3-week honeymoon period by about 7-8 weeks out, they almost zone them out. As you learn what catches student interest, you can rotate those pieces in more. It is always helpful to leave some posters about as a form of review. If you have the space in your classroom, we would encourage you to keep a current poster area and a legacy area for review.