Home
>
Math Topics
>
Geometry
>
Line Segments and Rays Worksheets
This is an identification topic that starts as something we just do for naming purposes, but as you progress with these materials this will become an essential skill to have mastered. It will be difficult to answer problems when you cannot visualize or draw the structures that they are describing. I find that students usually pick this up quickly, but they will need periodic review to remind them of what they learned. These lessons and worksheets will teach students how to identify and use rays, line segments, and basic lines.
Aligned Standard: 4.MD.5
Homework Sheets
We give you a segment, line, line plot or point. We just ask you to label it; that's all...
Practice Worksheets
Kids should fly through these, if not, have them practice with Flashcards.
Math Skill Quizzes
These are necessary, but must be the shortest quizzes know to man.
Segments, Rays, and Lines – What's the Difference?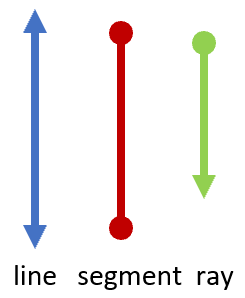 We have been studying so much about geometric shapes. We all understand that a line is something that goes on forever in both directions, opposite one another. There are many situations when lines get cut off or become part of a shape or structure. Because they are not extending on forever, they now become called something different based on how they are arranged.
Segments: Though we all know what a line is, it is actually difficult to define a line in a proper mathematical definition. A line segment contains two endpoints. These endpoints contain all the points that lead to a line segment. You can measure the length of a line segment but not that of a line.
Rays: A ray, on the other hand, is a line segment with one endpoint going on infinitely in one direction without the second endpoint.
Line: A line is a rough, thin and fine and infinitely lengthy collection of points extending in two opposite directions.
As we continue on with geometry, we will need to understand these directions to be able to communicate them to one another. You will often be expected to understand these vocabulary words and use them in a problem. Understanding the core differences between lines and segments is key.