Home
>
Math Topics
>
Algebra
>
Simple Algebra Word Problems Worksheets
In your everyday life most of the problems that we come across that include a number or quantity of some kind require a little algebra. Like it or not, algebra is crazy helpful. These types of problems are often not that difficult and can be solved following a basic approach that can be applied to most simple math operation based problems. What sets these types of exercises apart is that they require to read a series of sentences and make sense of a situation or a scenario that involves an unknown variable of some type. You should definitely start by identify what is being changed or modified in some way. That characteristic should be the basis for the equation or expression that you will create. These worksheets and lesson help students practice how to approach and solve algebraic word problems.
Aligned Standard: 4.OA.A.3
Homework Sheets
I made sure that the variable appears on both sides of equation. I tried to set it so that one pass on these sheets and they are ready for anything.
Practice Worksheets
The problems in this section are long-winded and require students to pick them apart more than others.
Math Skill Quizzes
All of the problems in this batch have two sentences. I also added a distracter in over half of the problems.
How to Solve Algebra Word Problems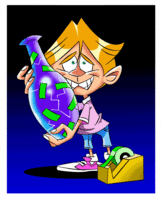 When you are working on word problems, a lot of concentration and focus is required, especially algebraic word problems. Many students find it difficult to deal with these types of problems, the minute they see them. This is mostly due to their fear of working on something that they are not sure of. Algebra word problems are not much different from the common word problems. In fact, they are more or less the same. However, if you want to make it easier for you, follow a few tips and tricks will help you find the easiest way to approach algebra word problems.
Read Thoroughly - Read the problem thoroughly and mark possible parts of algebraic expressions that you may come across while looking at the problem. Underline or circle any words that indicate a change of some kind. Identify some of the keywords. They can be a signal to finding which operation you are required to do. Those words will tell us the operations we will use or the relationship that exists within our equation or expression that we will write.
Where My Variables At? - In almost all of these types of problems we will be identifying an unknown quantity or number. These are called variables. We usually represent them with letter of the alphabet in our expressions and equations. The letter (x) is most commonly used. Find that variable in the problem and designate a letter to indicate that value.
Write an Equation or Expression - I find it helpful for wordy problems to write all the particulars as a single math sentence. We would take whatever math sentences are available to us and translate the problem into an equation or expression containing variables.
Solve It - Find the values of the variables with the help of the equation. Break down the problem into smaller steps to find the solution. Follow the direction of the word problem, but almost all of these types of exercises require you to get the variable by itself.
In the end, the most important thing about solving algebra word problems is to interpret the answer in after you have solved it. The above steps are not much different from common word problems, except you need to identify the equations and solve for the variables.