Home
>
Holidays
>
Saint Patrick's Math Worksheets
Why Do We Celebrate Saint Patrick's Day? Along with so many culturally diverse celebrations held around the year, one very "green" celebration is known as Saint Patrick's Day. Every year, St. Patrick's Day falls on the 17th of March, remembering St. Patrick. He was an Irish patron who ministered Christianity in Ireland during the fifth century. St. Patron was raised in Roman Britain but was captured by Ireland and taken as a slave as a young adult. Some years later he returned to his family and returned to the church. Later, he went back to Ireland and worked as a missionary in the North and West of the country. Today, St. Patricks Day is symbolized by the "Shamrock." It is a leaf of the clover that signifies the Holy Trinity. People around the globe wear green and the flag of the Republic of Ireland. Parties are adorned with green color, and people enjoy traditional foods and sweets of Ireland. Some people also plan a pilgrimage to the St. Patrick's Purgatory. Time to get your green on! There is literally pots of gold in some of these worksheets. This should make for some fun in March.
Basic Starter Skills Sheets
Full St. Pat's Worksheet Collection
Kindergarten, Grade 1 and 2
Grade 3, 4, and 5
Grade 6, 7 and 8
How to Celebrate Saint Patrick's Day in Your Classroom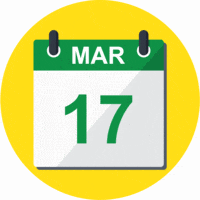 Everyone loves to celebrate this little understood holiday. It is funny how this celebration becomes more prevalent in students lives as they become more mature. In elementary, this normally the sixth most commonly celebrated non-religious holiday. As students advance to middle school it jumps to fourth. As student enter high school it makes the top three. In college a recent ASU study found it to be the most often observed holiday by students, while in session. In the math classroom there are so many different ways to show your appreciation. The most obvious is setting up a pot of gold counting activity. You can get a pot of gold and fill it with chocolate gold foil candies. That can prove to be fun for weeks. Just make sure the chocolate does not melt. Another fun game to play is math bingo; anything that involves a bit of luck is a knockout for this. You can do this a number of different ways. You can have students complete a series of problems and have their final answers be numbers within the bingo worksheet. You can also explore data that is related to Ireland. For younger students it could something as simple as weather and for high school students you could explore the economics behind the country domestically and internationally.