Home
>
Holidays
>
Easter Math Worksheets
What is Easter? We all love candies, right? And bunnies too! Well, we celebrate a holiday that includes both candies and bunnies! The holiday is known as Easter, Pascha, or Resurrection Day. But why resurrection? The festival commemorates Jesus' resurrection from the dead, described in the New Testament. The Friday that comes before this holiday is known as Good Friday. It marks the day when Jesus was crucified in the Cavalry. Every year, this holiday moves around the calendar. It can occur any day between 22nd March till 25th April. But the day is always a Sunday. For the celebrations, people visit the Church, after which family reunions are held over meals. Some people even travel to visit their families and relatives. Besides religious traditions, secular traditions are also observed, such as the Egg hunt. As heard and written in traditions, the Easter bunny hides the chocolates for the kids to find! Kids search for eggs outdoor, and whatever they find is kept in their egg basket. One of the most important tradition is the Easter Basket with chocolate bunnies, painting hard-boiled eggs, and Lilly flowers. A large Parade also takes place every year in New York. We get a large number of requests for this theme. We add new worksheets to this section between the months of February and May. If you are photo copying these sheets, I would recommend printing them in gray scale for the best print quality. These are some of the most colorful sheets we have.
Themed Skill Sheets Sorted By Skill
Core Aligned and Leveled Collection
Kindergarten
Grade 1
Grade 2
Grade 3
Grade 4
Grade 5
Grade 6
Grade 7
Grade 8
Super Fun Easter Math Projects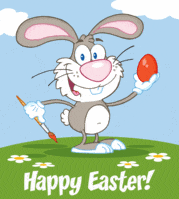 This is great time of year to have students take part in engaging themed math activities. We got our staff together to discuss the best Easter themed math projects they have had a great deal of success with. There were literally too many to pick from, so we picked the top 3 projects that we all agreed on. They can be adjusted to accommodate each and every grade level. The basic idea should give teachers a lot to work with. Here are our top 3 math projects for you:
Jellybean/Egg Sorting and Graphing - This can be done with real jellybeans or paper cutouts. You can also substitute jellybeans for colored eggs. A nice hour of egg coloring is always a great class bonding activity. It all depends on your preference.
Give students a series of jellybeans or paper cutouts. Make sure to very the consistency for each group of students. Have students first sort the jellybeans by a system of their choice. We would recommend that they create their sort by at least 4 categories. They can do straight color, speckles, size, shape.
Once they have their 4 categories and the sort is complete have them create a data chart. They then need to take chart and create a bar graph from it to describe the entire population. This is a great time to include technology and have them create a computer-based graph.
Bunny Hops (Measurement and Line Graphs) - This is an opportunity to get your students active with math. Find an area in your classroom where you have about 20 feet of open space. If you have a smaller classroom, ask you supervisor if it is acceptable to use the hall wall. If that doesn't work, for your situation, we will adjust the activity, 7 feet should do it.
Take a piece of masking tape and extend it in a straight line over a 20-foot distance. Measure the tape and mark off each unit based on the measurement system you have used with your students. You can measure in metric (yards) or U.S. standards (feet). You can also run two sections of tape and use both forms of measurement.
Assign two classroom jobs (recorder and measurer). The recorder should create a data chart that lists all your students' names and length in metric and U.S. standards. The measurer should be given a ruler and yardstick. Students can take turns with this as well. Again, this is up to what you are comfortable with.
Have students take turns and hop with two feet together, as far as they can. Have the measurer record the exact distance that they have jumped by the back of their shoes. They will need to extend this distance to the tape and then measure from the nearest interval. The recorder then writes down the measure net to the proper name. If you have room, they can take two or three bunny hops.
Once all students have had a turn and your data chart is complete comes the math. There is a ton you can do with all the data that was collected. If you only recorded one form of measurement, you could have students convert the measures. You can have the students compare the data to another variable of your choice by using a line graph. Some good ideas include student height, students that play sports vs. those that do not, leg length. You can also compare your results to that of another class.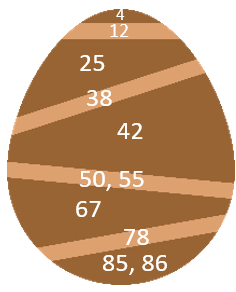 Egg Value Sorts - Have students make a color layered egg. You do this by taking a rubber band and place it over the egg in a series of loops over the egg before coloring it. Smaller rubber bands make less layers. If you are looking for more layers, use large rubber bands.
Once your eggs are prepared. Given students a string of data values such as: 85, 42, 50, 12, 78, 55, 4, 86, 38, 67, 25. Have students use this data and transfer it to the egg. They will sort it in the manner of your choice. You can sort them by place value (like the example to the right), multiple, factors, there are infinite possibilities.