Home
>
Grade Levels
>
High School Geometry
>
Density Worksheets
Density is an important physical property of all the objects around us. It tells us how closely packed the molecules of something is. Have you ever picked something up and you were surprised at how heavy it was or how light it was? You experienced the concept of density! The heavier than expected objects had a high density. The lighter objects had a much lower than expected density. Mass is a measure of how many molecules an object is made up of. Volume is a measure of how much space something takes up. Density is a measure of the mass of an object divided by its volume. In this series of lessons and worksheets we will learn how density applies to our real world. We will explore well beyond just calculating simple measures of density.
Aligned Standard: High School Geometry - HSG-MG.A.2
Homework Sheets
I tried to make these super fun. See if I hit my mark.
Practice Worksheets
Who doesn't want a light weight mobile phone. I'm still rocking a flip phone. Yes, they still make them!
Math Skill Quizzes
I tried to make sure that I used metric units here, but I did slip on a few problems.
What Can Density Tell Us About an Object?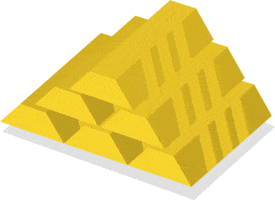 You may be familiar with a company called Nerf. They make a bunch of fun sporty products that allow us to throw balls further and not get hurt when we do. They allow us to shoot darts in our homes and not cause any damage. Why do their products take the real actions of hard balls and darts, but cause no pain or damage. The concept is known as "Density."
What is density? Let's look at it! Density is a word that describes how much space an object or substance takes up- the volume in relation to the amount of matter in that object- the mass. In other words, the amount of mass per unit volume is known as density. This means how tightly packed together the molecules of an object are together. If an object is heavy and compact, it is known to have high density. But if an object is light and takes more space, it has low density. The equation to determine density is based on the relationship between an object's mass (how many molecules it contains) and volume (how much space those molecules take up). It forms the formula density = mass ÷ volume.
When you go to a visit to your local lake you can easily see this. Throw a tree branch in the water and it will float because dry wood is much less dense than water. If you look at the bottom of the lake you will see a ton of rocks because they are all much denser than the water. Gold is one very dense substance. To illustrate this think about a gallon of water. We see them on the water aisle of every grocery store we go to. A gallon of water is just over 8 pounds, 8.34 pounds to be exact. Gold on the other hand, is much denser than water. A gallon of gold would weigh 160 pounds, that almost 20 gallons of water.