Home
>
Grade Levels
>
Grade 8
>
Comparing Properties of Two Functions Worksheets
In math we use functions to model situations or phenomena that is consistent. While there may be some limits to the level of accuracy that be exhibited, they are very help for understanding a scenario and predicting changes that can be made to improve an outcome. There will be times when you have multiple options of how you can use a function and analyzing and comparing those possible uses of functions can indicate which would be best for our situation. We lean heavily on the use of graphs to understand the nature of functions, but they are not always practical solutions. In this section we will focus on analyzing function tables and algebraic comparisons. These worksheets and lessons teach students how to compare the various properties of functions.
Aligned Standard: Grade 8 Functions - 8.F.A.2
Homework Sheets
Compare the functions and the input/output charts for slope.
Practice Worksheets
This is a skill that covers a lot of ground and can be interpreted many different ways.
Math Skill Quizzes
The variable g(x) is introduced and sometimes it will make the kids' heads' spin
How to Compare the Properties of Two Functions
A function is a mathematical relationship that takes in an input and based on the rule that is assigned will produce an output. They are a concept which needs to be adequately understood so that it doesn't create problems in the future. Most students might not know that this concept will get more difficult as you move to higher classes. Functions can be represented in many different ways. The most common ways to illustrate them is through the use of an input-output table, equation, or graph. There are three ways to compare the math relationships, i.e., algebraically, numerically, and graphically.
Let us compare two functions numerically. Let us consider an example of y = 3x + 5. In this example, y is a dependent of x, so in other words, if we keep on changing the value of x, then y will increase as well. Let's look at the table as an example.
x, y = (-1, 2), (0, 5), (4, 17), (-5, -10)
Comparing functions graphically is probably the easiest to understand. You cannot always use this method because sometimes the inputs and outputs simply do not fit neatly on a coordinate plane. We compared the graph of two functions below: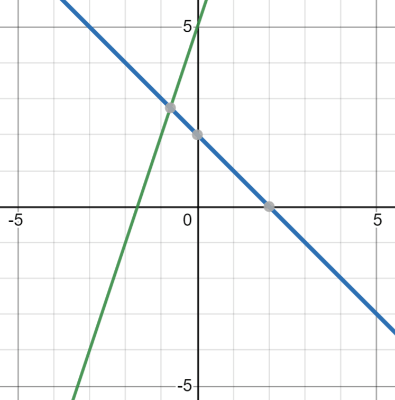 Can you spot any significant trends? Starting with the function represented by the blue line, we can clearly see that as the value of x increases, the value of y decreases. The function represented by the green line, on the other hand, has a much different trend. As the value of x increases, on the green line, so does the value of y. Graphs like this help us understand the nature of functions and make solid predictions of them.