Home
>
Grade Levels
>
Grade 5
>
Line Plots With Fractions Worksheets
There are many times when it makes sense to create visual diagrams of a data set. Especially when we are trying to make sense of the data and make an accurate prediction of what might come next. Line plots seem like a very primitive form of these visuals, but they are great for determining frequency with relative ease. Honestly in most cases they will serve as supplement visuals for your audience, but they display data that is pertinent and constantly needed. There will be many times that you will have fractional data, and this is often difficult for students to adjust to plotting, but it all comes down to labelling your number line properly. These worksheets and lessons will help students make a nice adjustment to writing fractional data on line plots.
Aligned Standard: Grade 5 Measurement and Data - 5.MD.2
Homework Sheets
We shift focus a little on this skill and move it to containers and volume readings that directly relate here.
Practice Worksheets
A solid mix of problems that combine word problems, volume readings, and fractions.
Math Skill Quizzes
We worry all about the data in the quizzes to make sure that we don't lose the eye on the prize of the core skill.
How Do Line Plots Display Data?
There are number of ways we can visualize the numeric data. Graphs, charts, and plotting on a number line are some tools that help us in displaying the numeric information visually. When we take figures and put it in a form that allows us to visually see it, this makes it much easier to see a trend that may exist and make a well thought out decision on a prediction of future statistical information.
One common and easy way to visualize the data is through line plots. A line plot is also known as a dot plot. Line plots uses a number line to visually display the numeric information. It is a way to display the frequencies of the numbers that appear in a data set. Here are the steps that you would take to create your own line plot.
Step 1 - Get Organized - The first step to display the numeric data on a number line is to arrange it. To know the frequency of each number, you can arrange the numbers in an ascending manner. Disorganized data may lead to inaccurate plotting.
Step 2 - Use a Dot or an X for Representation - The next step is to choose between a dot or a X as a way to signify a data point. You then must mark the symbol that you choose above or below the number to represent its frequency. It is customary to plot those symbols above the numbers line for each data point that is present.
Example of Creating a Line Plot
Let's say that you come across the following numeric set: 5, 4, 5, 7, 1, 4, 6, 5, 2, 5, 3.
Step 1 - Arrange the data greatest to least: 7, 6, 5, 5, 5, 5, 4, 4, 3, 2, 1.
It helps to make a quick frequency chart before you plot these. We can take that same data set and list in parathesis how many of those points you have in the set. 7 (1), 6(1), 5(4), 4(2), 3(1), 2(1), 1(1). So as we see from this quick frequency chart there will be 4- 5s and 2-4s represented on our line plot. All the remaining points will only have 1 symbol because there is only one data point to satisfy.
Step 2 - a) Create a numbers line that accommodates the range from 1 to 7.

b) Plot an "X" for each data point that exists in the set.
7 (1), 6(1), 5(4), 4(2), 3(1), 2(1), 1(1).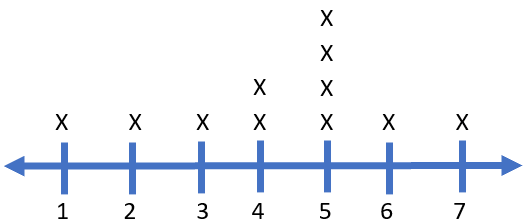 How Do You Display Fractions on Line Plots?
When working with fractions we would follow the same technique that we just demonstrated. The only real difference is how you label the numbers line. This will require that you break the interval into the fraction that is presented to you. For example, if we had to create a plot for the data set. ⅓ , 1, ⅔ , 1⅓ , 1, ⅔ , 1, 1⅔ , 1.
Step 1 - Arrange the figures greatest to least:
1 ⅔ , 1⅓ , 1, 1, 1, 1, ⅔ , ⅔ , ⅓ .
Create a short frequency chart for yourself from this data set:
1 ⅔ (1), 1⅓ (1), 1(4), ⅔ (2), ⅓ (1).
Step 2 - a) Create a numbers line that accommodates the range from 0 to 2 that is in increments of ⅓ s. You can adjust that range however you wish as long as it accommodates your largest and smallest value of the data set.

b) Plot an "X" for each data point that exists in the set.
1 ⅔ (1), 1⅓ (1), 1(4), ⅔ (2), ⅓ (1).