Home
>
Grade Levels
>
Grade 2
>
Double Digit Addition and Subtraction Worksheets
Here are some tips for adding and subtracting double digit numbers : After learning simple single-digit addition and subtractions, kids need to proceed to double-digit addition and subtraction. A child with a perfect understanding of single-digit addition and subtraction can easily understand the double-digit addition and subtraction. Here are some effective tips that will help kids develop strong concepts of double-digit addition and subtraction. Using Number Lines - Kids can efficiently add and subtract double-digit numbers using a number line. If they are aware of concepts of skip counting, using a number line can significantly help them. Using Base 10 Blocks - Another tips that can help children quickly learn double-digit addition and subtraction is to use the base 10 blocks. It helps kids add numbers beyond 100 with ease. Ungrouping - Place value can ease the addition and subtraction for the kids. Breaking a number in tens or ones can help kids efficiently subtracting complicated double-digit numbers. Count Down, Count Up - When the concept of counting up and counting down is clear, a student can easily solve double-digit addition and subtraction problems. The goal of these worksheets is achieve mastery of adding and subtracting double digit integers.
Aligned Standard: Grade 2 Base Ten - 2.NBT.5
Homework Sheets
This skill, by most past state standard fell into grade 3, but now it is a grade 2 skill.
Practice Worksheets
I threw in a matching format to make it a little bit more fun for the kids.
Math Skill Quizzes
There is a good bit of number carrying going on here.

How to Add Double Digit Values (with Regrouping)
When you are finding the sum of two values that consist of double digits it requires several skills, but above all it is essential that you stay organized throughout the entire process.In the example below we will introduce you to the concept of regrouping.Regrouping is just moving a value between place values. In the case of addition, we are moving an overloaded values in the ones place up to the tens placed.We will now explore an example of this by finding the sum of 37 and 28.
Solution
Step 1) Add the values in the one place (7 + 8 = 15).

Step 2) This resulted in a value (15) that is greater than 9. This value is too large to fit at the ones value. This is where regrouping comes in handy. We can move that tens value up one column. As a result, we must carry the tens digit (1) to the tens place of question and drop the ones digit (5) into the ones place of our answer (sum).

Step 3) We complete the problem by adding all the values (1 + 3 + 2 = 6) in the tens place. We just write the final sum (65) at the bottom.

How to Subtract Double Digit Values (with Borrowing)
The regrouping method also applies in subtraction, but it occurs in reverse. The regroup happens on the minuend when the ones values are underfunded.You can move a tens value down to the ones place to satisfy your difference. We call this method borrowing which makes sense because you are borrowing a value from one place to help another.Explore the subtraction problem (42 - 27) that we have worked through below.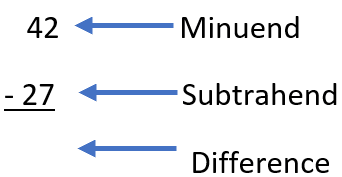 Solution
Step 1) Subtract the ones place. In this case (2 - 7), we cannot complete this difference because the difference would bring us a result that is less than zero. This where we can borrow from the tens place.We will reduce the tens place of the minuend by 1 (4 - 1 = 3). We can then transfer this ten to the ones place (10 + 2 = 12).We can now subtract the ones place (12 – 7 = 5).

Step 2) Now that we have our problem in order, we can simply subtract the remaining tens place (3 - 2 = 1) and drop that difference into the answer of our difference.The final answer is a difference of 15.