Home
>
Math Topics
>
Word Problems
>
Data Table Word Problem Worksheets
In this section we look at word problems that accompanied with data table of sorts. You will find that this skill has a substantial connection to the real world. People that work at most businesses are finding that they need to do this many different times throughout the day to make good decisions and in many cases this a very necessary skill to be able to complete your normal daily routine. We help you understand how to approach these types of problems. These worksheets and lessons teach students how to manage word problems that include data charts within them.
Aligned Standard: 3.MD.B.3
Homework Sheets
The work gets successively more difficult as you advance.
Practice Worksheets
If you decide to work in a clothing store or a restaurant, this practice set will be a huge help.
Math Skill Quizzes
The quizzes give many real world problems you will come up against in the future years.
How to Make Better Use of Data Tables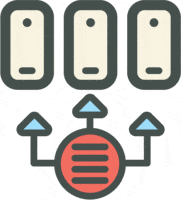 Data tables are usually used for representing the relationship between multiple variables. For instance, monthly revenue generated by a company in the year 2009 broken down in a month to month or financial quarter to quarter. This can go even further when deciding to compare the monthly performances of different companies altogether. That is just what tables allow us to do, they help us organize the data to allow use to make clearer and more well thought out decisions.
Data tables have a variety of applications in the professional world like politics, science, and finance. Tables allow a large amount of numeric data to be represented in a more understandable manner. It helps people understand data conveniently. They are often used in the banking sector to make the data more manageable and allow better convenience in understanding it. This in turn helps customers evaluate their financial products and it is ultimate what makes markets move.
A data table compiles data in the simplest of forms for representing the data. It uses rows and columns for data interpretation. Each of those columns and rows identify a contributing mathematical entity that is highlighted by the data. There are some key features that are present on most of these tools that you should be aware of because they will help you better understand how to make sense of the data. Labels are often helpful, but sometimes they are not found at the top of organizer. They can basically be set anywhere that is why it helpful to take your time and read all the labels before looking at any of the values that are present. Pay special attention to annotations that are present. This is where these tables are often misinterpreted. That is because they often indicate a scale that is present. For instance, you may be looking at sales in the millions of dollars or even billions. That would be usually labelled at the bottom of everything.