Home
>
Math Topics
>
Graphing
>
Horizontal Bar Charts Worksheets
This is an often-underutilized form of this type of chart. Most people opt to use the vertical orientation when creating these charts, but there are many situations where the horizontal orientation has a great number of benefits to help better communicate your message. I find that most of my students are informed improper on the use of this tool. Many people feel that we only use this orientation when we need to fit a chart in a fixed space whether it be on paper or in digital format. The purpose of this form of the chart is to display nominal or categorical data. With that type of data the order of the bars does not matter and can be positioned in anyway.These worksheets and lessons help students learning how to read and understand horizontal bar graphs.
Aligned Standard: 2.MD.D.10
Homework Sheets
We use pictographs to ease them into the skill here.
Practice Worksheets
We now move on to the next logical progression.
Math Skill Quizzes
You will find a nice mix of different types of questions here.
How to Read Horizontal Bar Charts?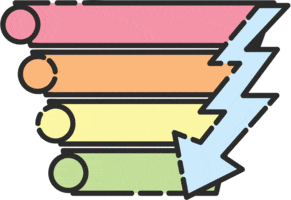 Data visualization makes analysis of data easy, simple, and less time-consuming. There are many different ways we can visually display data. Pie charts, histograms, tally-frequency charts, dot and plot, scatter plot and bar graphs. Bar graphs have two orientations that you can choose from. Both vertical and horizontal bars are the most common ways of visualizing data. A bar graph is made using rectangular bars which have lengths and heights proportional to the values they are representing. A horizontal bar graph has rectangular bars stretching horizontally. Reading a horizontal bar graph is easy. Here is how you can effectively read and understand the data a horizontal bar graph represents.
The title of the bar graph tells the nature of the data and tells exactly what the bars on the graph are representing. The vertical axis on a horizontal bar graph represents the categories of data. The horizontal axis on a horizontal bar graph represents the corresponding values for each data value. The scale on a horizontal bar graph tells us the value of one unit on the horizontal as well as the vertical axis.
When to Use the Horizontal Orientation
As we said previously you can position the bars in a vertical or horizontal fashion. You will most likely see the vertical form used more often than not. This is because people are accustomed to see up and down as one the best ways to compare values. There are plenty of situations where a horizontal orientation makes more sense. Your choice as to which orientation best suits your situation should be based on the type of data you are working with. If the data consists of nominal variables you would want to use a horizontal orientation. Nominal variables are those that categorical and can be rearranged in any order and still make sense. If the data you are working with consists of ordinal variables, those where order and sequence do matter, you would want to shift to using the vertical orientation.