Home
>
Grade Levels
>
High School Functions
>
Rate of Change Worksheets
The concept of rate of change is when we are track at least two quantities and see how their values get modified over time. The independent variable is variable that stands alone and the cause for this distortion. We normally define the independent variable as x. The variable that it has a direct effect on is referred to as the dependent variable. The dependent variable is normally stated as y. The rate of change is quantifiable by determining the quotient of these two variables in context of the equation: rate of change = difference in y (dependent variable) ÷ difference in x (independent variable). This is a wonderful selection of worksheets and lessons that show you how to predict the possible rate of change of various functions.
Aligned Standard: HSF-IF.B.6
Homework Sheets
Finding the slope on the first two leads us to finding an average trend on the third homework.
Practice Worksheets
Now we have students start to interpret the meaning of the slope of the line.
Math Skill Quizzes
We start with some simple word problems to target the concept of slope.
What Are the Degrees of Rates of Change?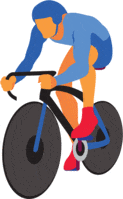 Rates of change can be determined to be positive or negative. A positive rate of change is indicated by the upward trajectory of x and y on a graph. A negative rate of change is indicated by x and y values being in conflict, as the x value increase the y value decreases on a graph. These degrees vary by the elevation or decline in y-value. There are also situations where there is no or zero rate of change, this results in a flat horizontal line when it is graphed.
How to Predict the Rate of Change of Functions
Functions have extensive usage in advanced mathematics and calculus. Calculus is used extensively in other aspects of science. By definition, a function is a procedure in which every input gets associated with only one output. One of the implementations of the function is finding out its rate of change. What this does is describe the transformation in one quantity about the other. In other words, if y is the independent variable and x is the dependent one then: rate of change= (change in x )/(change in y).
There are numerous parameters in which the rate of change of functions can be used comprehensively. Such as finding out the acceleration of a vehicle. The acceleration deals with the change in velocity concerning time. In general, the change in the rate of a function can be denoted as: f(x) = (f(x + h) - f(a)) / (b - a ).