Home
>
Grade Levels
>
Grade 1
>
Addition Math Facts Worksheets
The concept of adding two values is the foundation which math is built upon. This is essentially counting up by the second quantity to the first quantity. There are many different approaches that can be taken to learn this mentally. Many students simply learn this through consistent practice. When we are look at operations between two single digit numbers, we refer to this as math facts. In this selection of worksheets and lessons we focus on how you add two math facts together. We encourage you to practice with this series of worksheets often. There are a total of 20 practice sheets on this page. All of the problems are setup in a vertical orientation for you.
Aligned Standard: Grade 1 Operations - Operations
Practice Worksheets
You say you need a plethora of practice sheets? This should help.
Mad Minutes
30 problems for you to manage in 60 seconds. Some teachers go for 60 problems. I attended a conference in Boston a few years back that cited research that a problem every 2 seconds is the optimal learning speed for long term success.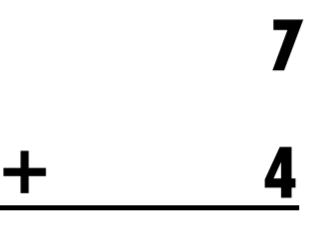 How to Solve These Types of Problems
In this example we will work with finding the sum between 7 and 4, as you will see to your right. Your first step is to pick either of these numbers to start with. It makes it less work if you start with the larger value. The next step is to understand that the addition symbol tells us to count up by the other number, in this case 4. So we will count up 4 from our starting value of 7. 7, 8, 9, 10, 11.

11 is our final answer.
How to Learn to Add Quickly
It is essential to learn to do quick math mentally rather than using a calculator. It helps improve your counting skills and enables you to save time while increasing your mental capability. Can you add the numbers that are found below in 5 seconds?

7 +5 +6 +4 +3 +8 +1 +4 =?

Your answer is most probably 38. If you couldn't do it in five seconds, then don't worry. Here are a few tips for you.

The best trick of learning to add quickly is looking for complements. Complements are missing addend values that will make a sum of 10 when added to the number you are evaluating. I.e., if you have a number 9, then you look for its complement 1. Using this simple technique will help you add numbers mentally. So, if we make a list of all complements it would be: 1 for 9 , 2 for 8 , 3 for 7 , 4 for 6 , 5 for 5.
These numbers, when added with their complements, produce the number 10. If you are adding double digit numbers such as:

21 + 36 + 33 + 61 =?

The answer is 151. A great way of dealing with double-digit addition is breaking them down into tens and one place value columns. I.e.
20 + 1 , 30 + 3 , 30 + 6 , 60 + 1

Using these simple techniques will greatly help you add numbers more quicker and more effectively.