Home
>
Grade Levels
>
Grade 1
>
Attributes of Shapes Worksheets
What Are the Attributes of Shapes? To understand what shapes are, we do not need to search for them on the internet as everything around us has a geometric form. Look around; you will see many simple shapes such as square, circle, rectangle, sphere, cylinder, etc. To develop an understanding of all the different forms, it is better to learn their attributes. The properties and traits of any shape are known as its attributes. Let's understand what these attributes are: Features or properties that visually define any form are its attributes. For example: Square is a basic geometric shape. Its attributes will be: Attributes:- It has four sides and four vertices. - All sides of the square are equal. - Opposite sides are parallel. - The angles between any two adjacent sides are 90 degrees. Let's take an equilateral triangle Attributes: - All three sides are equal. - The angle between two adjacent sides is 60 degrees. These worksheets help students identify and get comfortable with geometric forms of all kind.
Aligned Standard: Grade 1 Geometry - G.1
Guided Lessons
My true goal here is for students to start seeing the shapes that surround them all day long.
Practice Worksheets
We focus on the names of the shapes in all types of settings.
The Fundamental Geometric Shapes and Their Key Features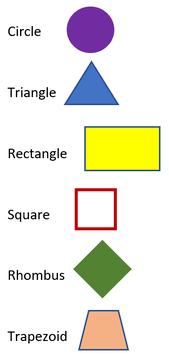 Geometric shapes are closed two-dimensional figures. What separates one from the next are curves, points, and lines. These things create, in some cases, angles, corners, and sides. There are six commonly held shapes that we often study and set the foundation for most our knowledge of geometry. They also are in many forms of architecture and manufacturing of just about everything. Take a look at what separates each of these figures from another.
Circle - This is a round planar figure. The round curves are always an equal distance from the center.

Triangle - This is formed when three straight lines come together and form three angles. The length of these sides can vary greatly. Mathematicians realized that these sides and angles are always in a consistent proportion to one another. This simple concept created many different complex applications that it created a new branch of mathematics called trigonometry.

Rectangle - This figure has four sides with the opposite sides being equal in length. They also have four angles that measure ninety degrees.

Square -This is a rectangle that has four equal sides and angles.

Rhombus - Formed by four straight lines that measure all the same length. They do not contain any ninety-degree angles. Opposite angles are equal.

Trapezoid - This is a four-sided figure that has two sides that are parallel to one another. The other side pair are not parallel.